We've had a very good time. Seven days in the sun of Crete with a lovely apartment in Kalamaki run by a friendly guy named Giannis as our base camp. We've had good meals together at different restaurants almost every night and the kids have gone to sleep tired and happy. One week was perfect, one more would have acquired more activities. And the heat, oh my, I'm not built for that. It's making me tired. But the kids loved it.
Ok, now let's break things down a bit.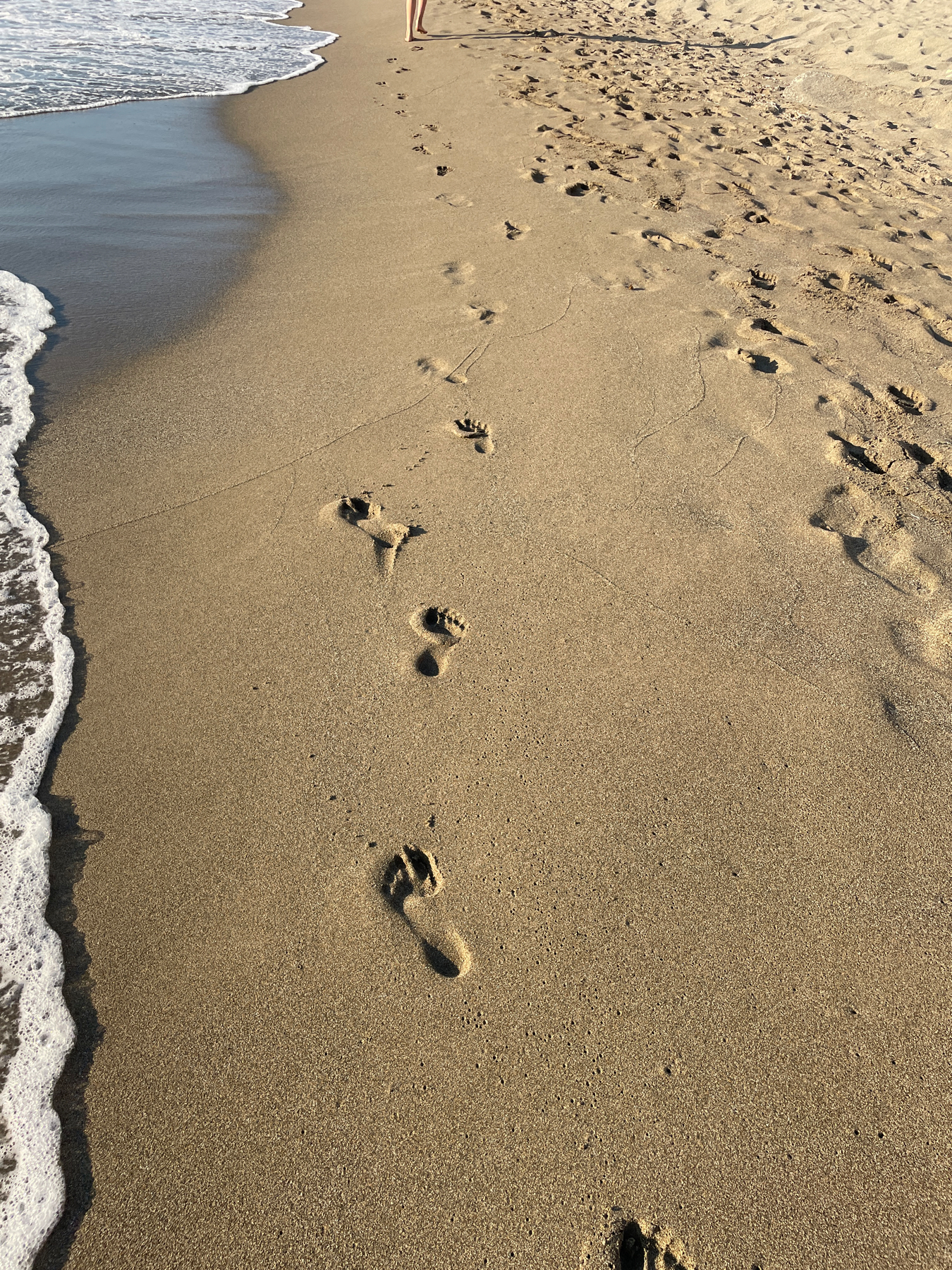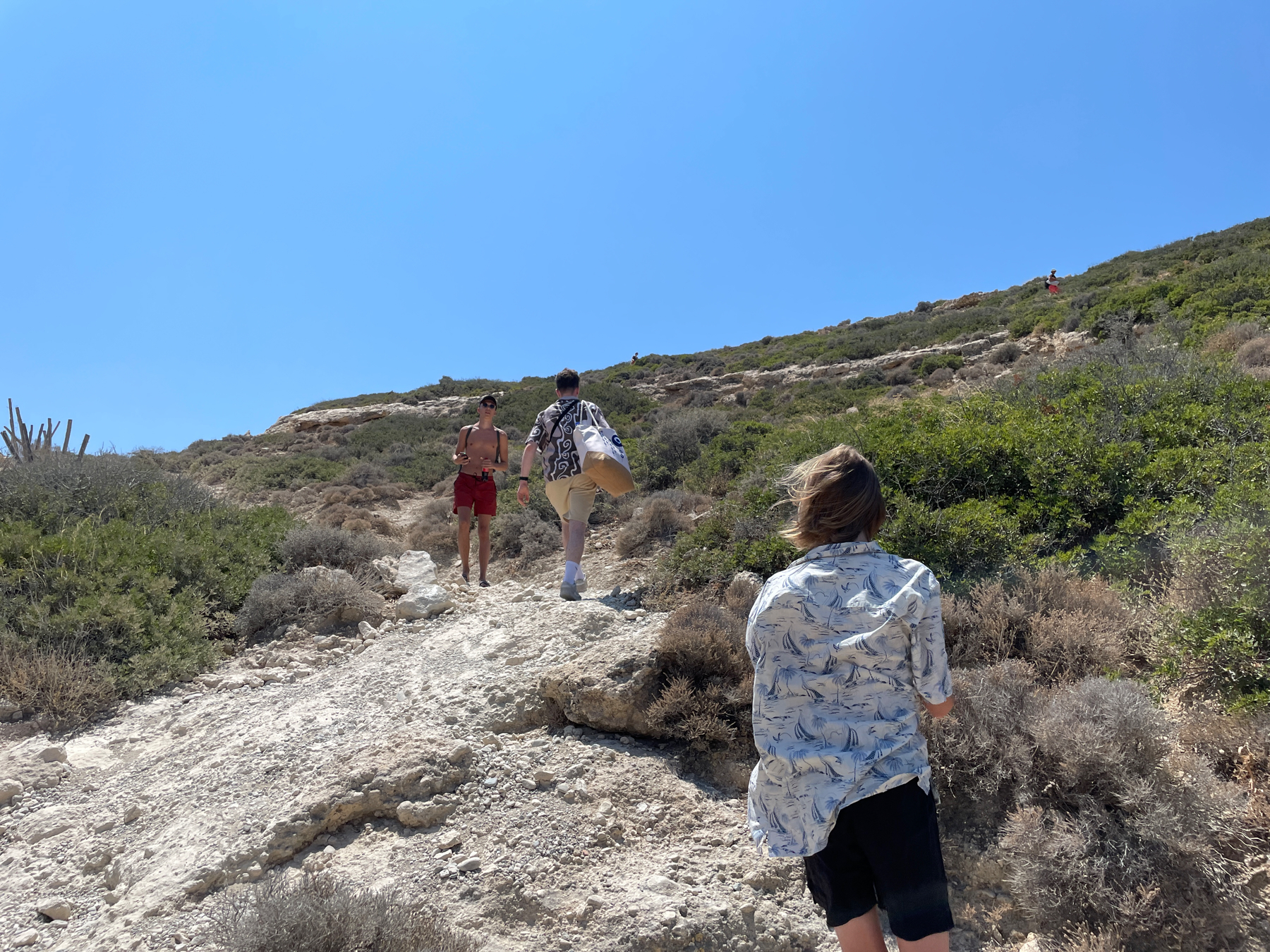 Climbing to Red Beach.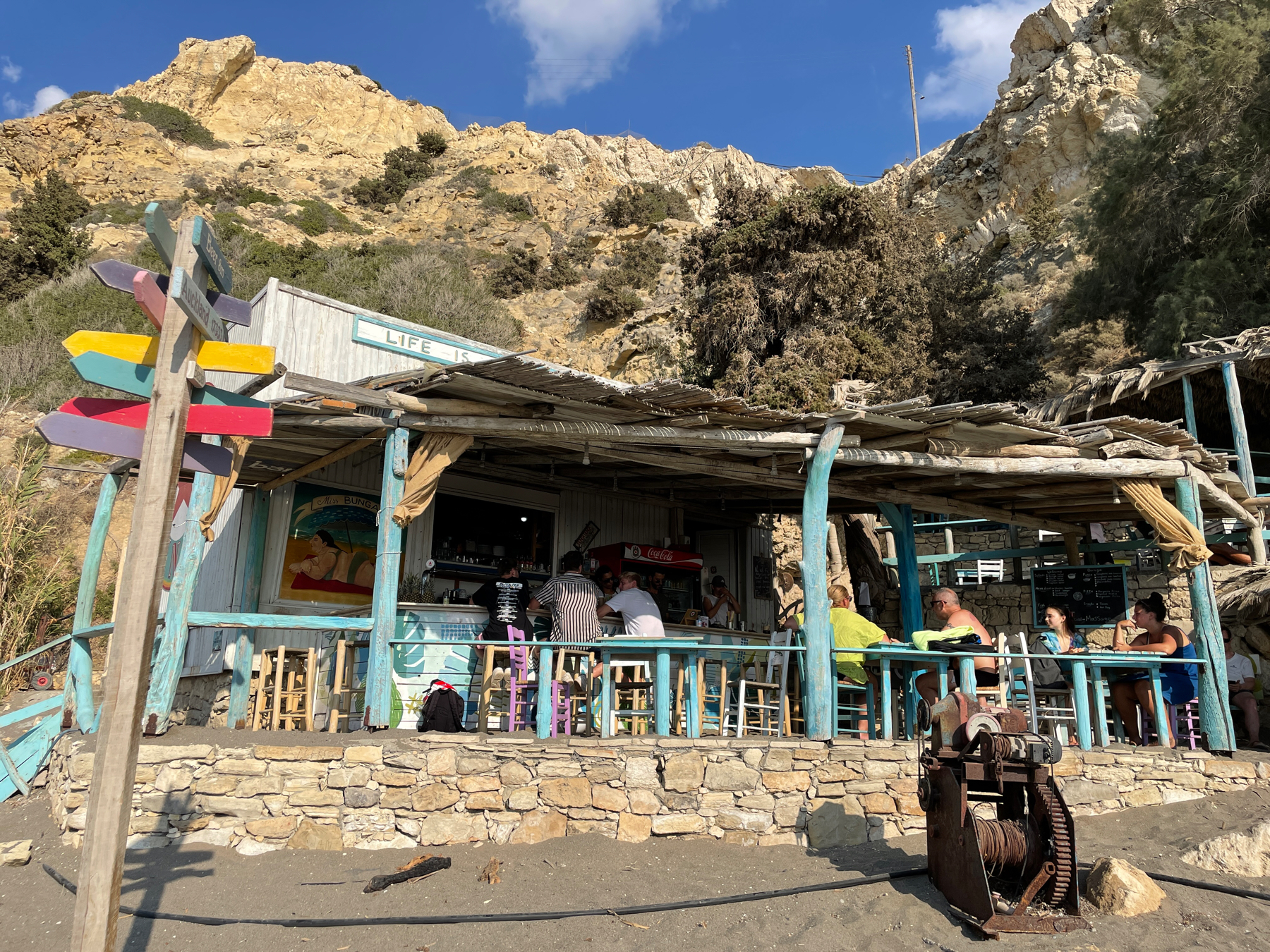 Bunga Bunga.
Kalamaki village
Small and young. Around 450 people live here all year around. Most of it is built around tourism and the village started to be a village as late as in the 1970's. But it still has got a sleepy feeling (in a good way), it's not the place you chose to go to if you want to party all night. And even if it's got a touristy vibe it's nothing compared to the northern coastline of Crete where the big hotel compounds are lined up as a long bracelet. The beach is large but rocks are hidden underneath the water so you better be careful. There are to small but sufficient mini markets and a lot of restaurant with decent food and prices. Aristodimos being one of the pricier one but worth every penny.
Beaches
If you are up for a walk along the water go west for a couple of kilometres and you get to Kommo Beach. Here's no rocks, just plain sand. Two restaurants are serving cool drinks and proper food (we only tried Bunga Bunga but that was so nice we went there twice), and if you get there early in the day (or hang around for some time) you could get hold of one of the sun beds for 8 euros. If not, be prepared with sunblock or a parasol of your own – and flip flops! The sand is burning!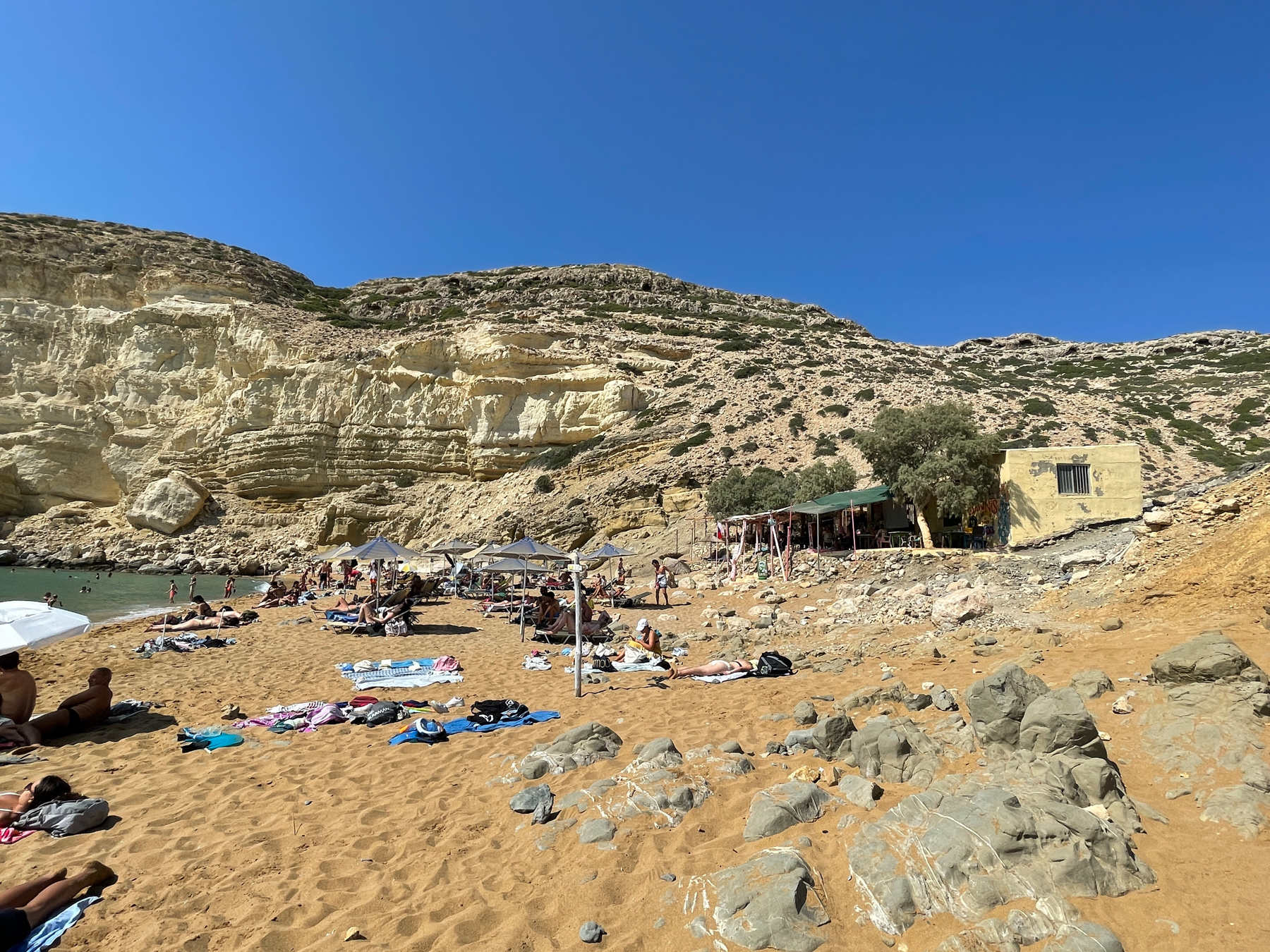 Red Beach.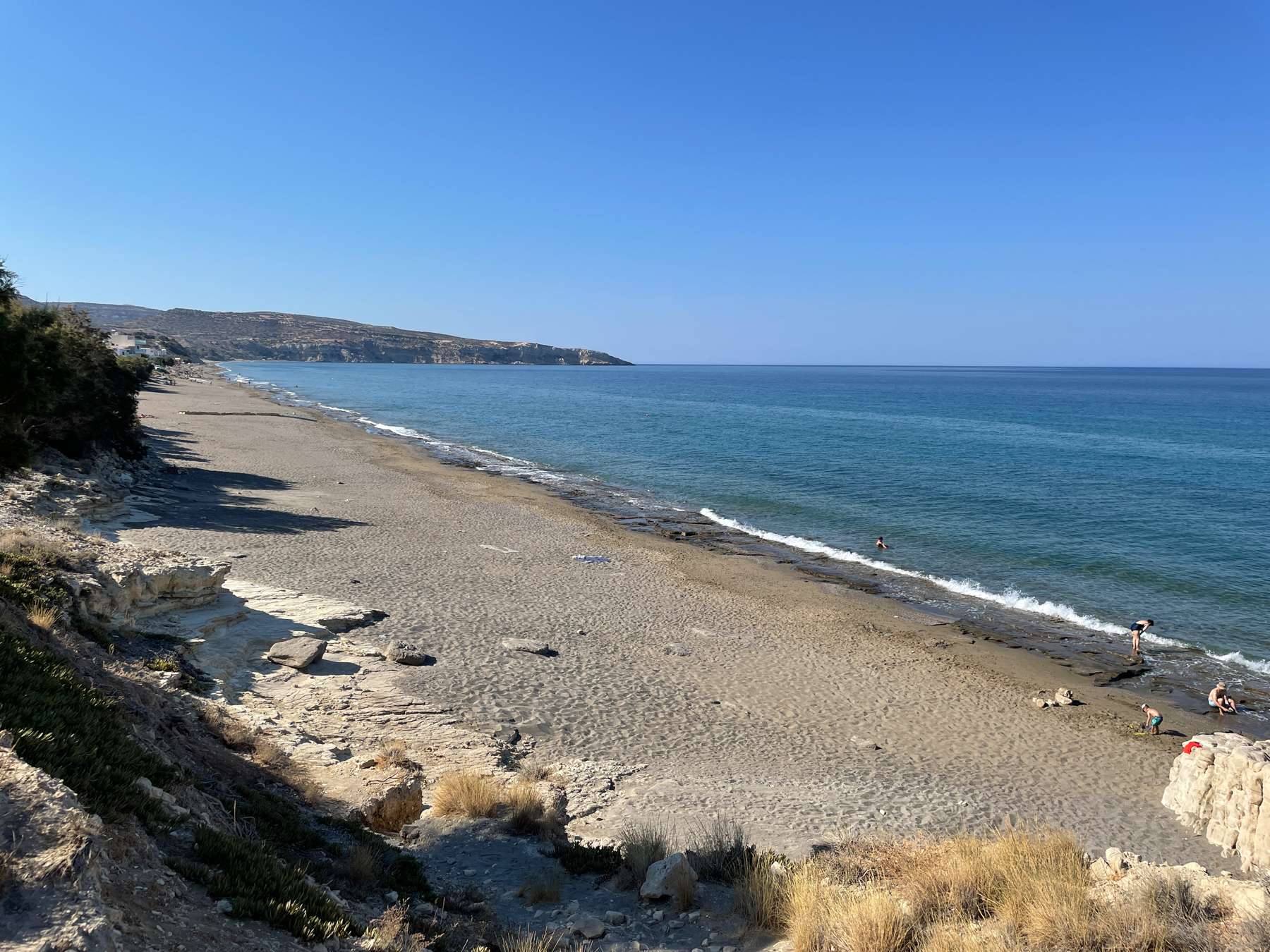 The beach in Kalamaki.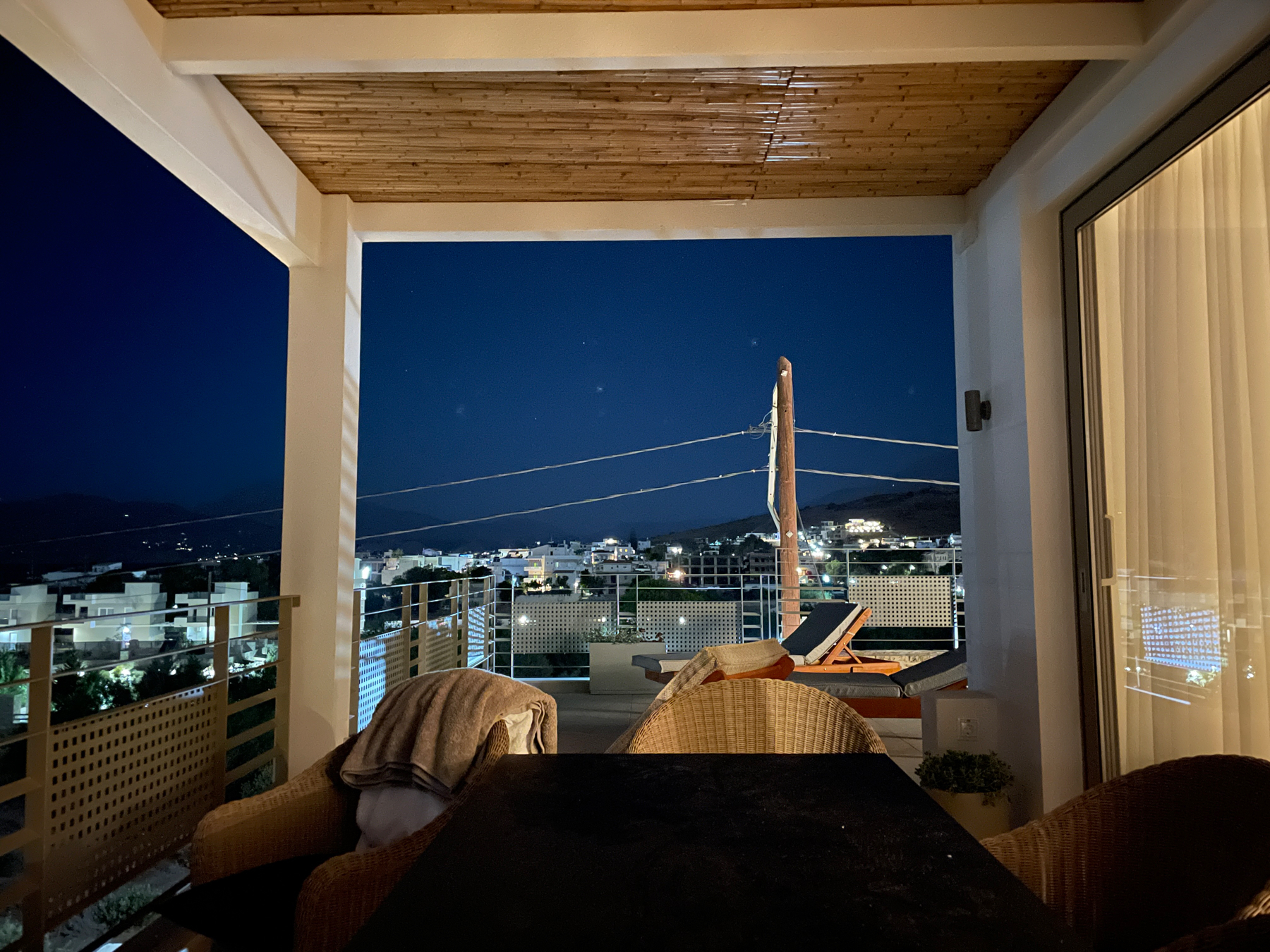 The terrace.
The "hidden" Red Beach is also nice but that's in the village if Matala, a half hour drive from Kalamaki. To get to Red Beach you have to climb a mountain. Most guides says it's a ten minute walk but I would correct that to being 40 minutes of climbing. It's very steep and nothing for people with bad balance or bad shoes. My wife slipped and hit her coccyx (she's alright now) and our kids thought the "walk" was tough and a bit scary even, but they liked the beach. And afterwards we all could talk about it like and adventure and something they wouldn't do at home. Two small bars are serving drinks and snacks. One of them having a real bad reputation online..
Driving
We rented a car for the whole week through Hertz. It was worth paying for a bigger one. We got a Jeep Renegade. The roads are often bad and steep and the driving, well I'm not surprised there's a lot if traffic deaths in Crete. My best advice: keep a distance and plan your longer drives so you can add an hour to the estimated time from Google maps.
Now I'm wrapping this up with a bunch of photos. When writing this I'm sitting on the floor at Chania international airport and soon it's time to get on the plane bounding for Stockholm.